Robert English
Occupation: President of Chemical Solutions, Inc.
Location: Sheldonville, MA
My connection to the Conowingo Dam: Grew up from ages 0-18 within a half mile of the dam and spent many days on the lake, the tailrace, and inside the dam as a child. My strongest connection to Conowingo that still is in use and exists today is I purchased 3 of the original lamps which were on the headworks from 1928. These are beautiful large copper lamps and when the roadway reconstruction/widening took place in the early 70s, we purchased 12 dozen of the original lamp heads (they were on concrete posts) for mementoes and future use. I still have all three lamps and you can see the lamps in the original photo from the 60s as well as in the photo of my current home, a horse farm, in Sheldonville, Massachusetts.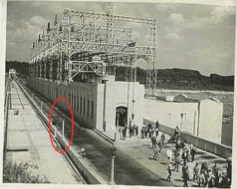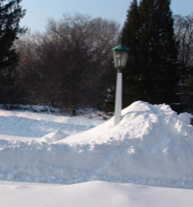 Story: My father took a job as plant engineer with Conowingo Dam in 1950. We moved from Emerton, MD to House No. 8 in Conowingo Village in 1955. In those years, all houses were identified by their number and the houses were "available" (nominal monthly rent) with the position held by the employee at Conowingo Dam, so the Plant Engineer and family were in House 8. I still have a photo of me, my brother Paul X. English, III, and Skippy Barker leaning on the bumper of our Dad's '54 Buick. We continued to live in Conowingo Village and my father was promoted twice more and we had to move twice more first into house 2 and then finally into the Superintendent's home, house 1, until 1972 when life took all of us on to new places; my brother into the Army, my dad to PE's headquarters in Philadelphia where he stayed until he retired in the late 80s, and I ended up in the Boston area where I have lived for the past 42 years.
I will always hold dear the memories of growing up in Conowingo Village; the countless times I fished as a kid in the lake and marveled at 3' long and larger catfish pulled from the tailrace by fishermen. I walked the entire length of the inspection tunnel collecting stalactites off the ceiling as a kid and remember the struggle to open the massive doors that still to this day adorn the front of the plant. The smells of the elevator ride down the observation platform in turbine hall. I still have one of my first ever photos that I took with a Brownie box camera perched on the railing of observation deck looking down turbine hall.
I still have many fond memories of growing up in Conowingo Village, attending Darlington Elementary School, and on to Bel Air High School where we had over an hour's bus ride each way every day. It was a simple time and life was very good, but like all things we never really knew what we had until it's gone.
Last year, my brother and I went back and walked the area again using our cellphones as a GPS guide to locate our former homes. It's amazing what changes and what does not, but the most incredible thing for me was to realize how quickly nature will reclaim what it owns after we give it over. We found only a few remnants of our former homes: the back foundation wall of the twin garage between house 2 & 3 and the big pine tree in the center of Village Green which can be seen in the background of the photo of my father, Paul X. English Jr., my brother, and me all mounted on our horses which we kept in Berkeley, MD. That big pine was still there but totally overgrown with vines. In addition, a white pine tree that I brought home from Darlington Elementary on Arbor Day and planted in 1959 ('99 photo below) is now nearly 70' tall and it was a sapling in a paper cup when I put it in the ground. That was very touching for me to have had an opportunity to visit that tree, which is in fact one of my oldest living friends…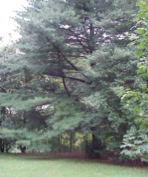 Conowingo Dam represents one of the finest accomplishments of modern construction, and use of a natural resource to produce electricity. With subsequent upgrades to the plant, the generators, and of course the "new" powerhouse of 3 additional generators put in during the late 60s, it is as natural a source of energy as we can find outside of the sun.
Please support the license renewal of this historical engineering marvel so that it reach 100 years of service in 2028! I grew up there, I bore witness to angst of Agnes where every flood gate opened for the first time ever, and saw lots of challenges to the dam's resilience.
This structure is good for our environment, it's good for our history, and it's good for our energy needs. I am not in the power business and personally, I have nothing to gain from Conowingo's license renewal; it's just the right thing to do.
Looking forward to seeing Conowingo Dam there for another 86 years!